LightSys 10/40 Window Missions Prayer Map
Pray for the world and live intentionally! We have a 10/40 Window prayer map poster (11" high x 17" wide) to encourage and remind you in your journey with God regarding missions. It also includes tips for moving forward in your missions commitment, including a couple of specific tips for missions-minded technologically gifted people. Please feel free to let us know how we can be praying with and for you. It is a privilege for us to be a part of God's story at work within you.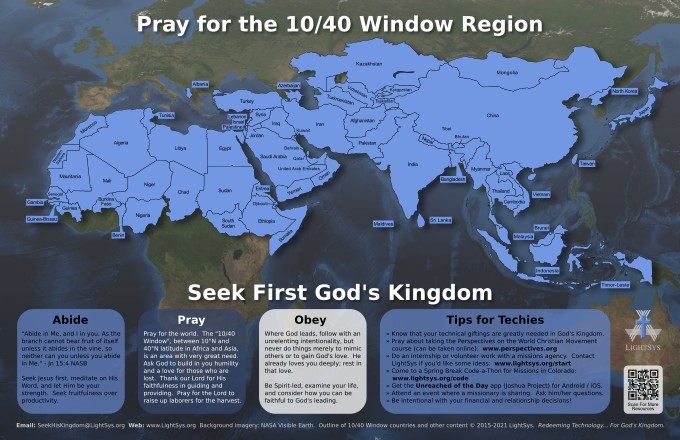 Get a Poster!
We'll gladly send you a copy for free. Just Contact Us with your name and a mailing address, mentioning that you'd like a free copy of this poster, and we'll get back with you.
Next Steps
There are some "next steps" you can take outlined on the map (you can also find this information again by scanning the QR code on the map). Here are a few quick links you can follow to learn more.
Desktop and Mobile Backgrounds
Would you like an image of the prayer map to use as your computer desktop background or as a background for your tablet or smartphone? Below is an image you can download for use on your own device.