What We Offer
LightSys offers no-charge computer consulting, implementation, training, and research & development services to the Christian missions and ministry community. We have team members deeply experienced with a variety of technologies, including open-source and standards-based technologies, information security, and commercial solutions such as Microsoft and Google.
Our work centers around projects. That is, we generally do not (at this point) provide web hosting, email hosting, IT and helpdesk outsourcing, and the like. Our goal is to train you to manage the systems we implement (or fix!), rather than creating dependence upon us for day-to-day operations. In that manner we can potentially multiply our impact rather than simply adding to it.
Training Workshops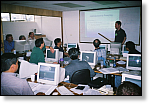 We believe that one of the most effective ways we can serve you is to equip your organization's IT staff with the knowledge and training needed to be most effective. Thus, we have two training workshops that we currently offer, one on the basics of using Linux as a server, and the second on internetworking and information security. Both workshops are very intense hands-on courses, using well-thought-through materials and effective hands-on exercises.
We can either come on-site to do the training (recommended minimum participants is four, though we can do the workshop with fewer participants by treating it more as a consulting visit than a formal workshop, and the minimum timeframe is three full days), or we can do the workshops live over the internet. We try our best to make the workshops both challenging and fun! There is no tuition for our workshops, and all of the software used is free.
On-Site Consulting
We offer on-site "come to your doorstep" IT consulting services to Christian missions. Our team members travel around the country (and around the world), doing such things as consulting, network setup, troubleshooting, some occasional software development, training, installing servers and internet connections, removing viruses and hackers, fixing PC's, and providing contacts with others who can also help.
Our field consulting efforts both help us serve you, as well as help us learn more about what missions in general need in the area of computer technology, thus allowing us to more effectively guide our research and development efforts.
Software and Systems Tools
Because of the unique methods and ministries of a missions organization, often missions have unique IT needs. We seek to understand these needs and develop software solutions to meet them, both at the systems level and at the application level.
Our tools include networking tools, system security tools, and application-level programs. We have also occasionally custom-developed software systems for specific clients. Furthermore, we seek to research security technologies and apply them in ways that specifically fit our clients' risk profiles.